Try your hand at something new or get back to things you've been missing.  Even scientists acknowledge that working with our hands offers powerful benefits on many levels.
See which of the following appeals to you and give yourself some time to refresh in the company of others over an empowering and creative activity.
Wednesdays               Open Studio
Many people express that they have been wanting to get their hands into clay for a long time.  Maybe you loved it in high school or college, or maybe you've never had that opportunity, but you hear the call of this simple, forgiving  material that is waiting for an invitation to speak your language.
Too busy to sign up for a multi week course?  This is a great way for you to explore, relax and enjoy yourself on a drop-in basis (you have 6 weeks to finish and take home what you make).  Come with an idea and either work on your own or get help on how to bring your idea to life.
Not the typical structured class Open Studio is geared to each person's unique style and interests, through handbuilding (for beginners as well as experienced) and wheel projects (for experienced) potters.
Call the day before to let me know you're coming.
9:30-2:00  Plenty of time to immurse yourself .   (bring a lunch)
$40
Clay $25 for 25 lbs.
All other materials, glazing and firing, included.
Fridays
Friday Morning Clay  
Private and semi-private wheel instrtuction.  Anyone can master the wheel and learn to make beautiful pieces.  This is a structured class with plenty of attention and guidance for beginners, or experienced potters who want to take their skills to another level.
10:00-Noon
$240 group class, 3- 5 students.  $450 private class.
Prepay for 8 week sessions with adjustments for 2 dates you will need to miss.
Knitting  From the Ground Up
All levels.  Beginners or knitters seeking freedom from repetitive flat scarves, start by making 4 wooden needles  for socks.  The magic of this empowering project is found early on when turning the heel -that is the moment when you realize nothing is beyond you and you can achieve anything.  Can mittens, fingerless or short fingered gloves be far behind?  Simple or complex designs in two colors, when you feel ready.
1:00-2:00 Fridays, ongoing.  Call the day before to join.
$20 includes scones and tea.
Prepay for 5 classes and save $10
Small materials fee may be charged.
Handwork Sampler
Take time out before school pick-up, to refresh with either of these delightful, simple, satisfying projects.
Repurpose Felted Sweaters or Scarves into hats, flower pins, pouches or purses.  Learn how to design and create you own charming pieces and add some needle felting for more decorative effects.
Tiny Quilts are Crazy Quilts enchanted by simple embroidery. In these smaller sizes they can become coasters, placemats, hot pads, pillows, or purse organizers.    If you have some favorite old clothes that are trying to move on, bring them along to use them in your design.
No previous hand sewing experience necessary.
Both of these are simple, grounding, satisfying projects to take with you anywhere, great for waiting at the garage, Dr.'s office, music lesson, dance class, the bus stop, etc…  The Perfect meditation for those who find it hard to do nothing and want to do everything.
2:00-3:00
$20 includes tea and scones.  Call the day before to join.
Prepay for 5 sessions and save $10
Small materials fee may apply.
After School Clay and Crafts*
For families or children alone.  Projects can include Clay: animals, table or kitchen ware, and other practical items.
*Or upon request other crafts such as, Paper: note paper with envelopes, paper lanterns, picture books and journals, Fiber: sewing, knitting, embroidery and Paint: finger paint or watercolor.  Practical pieces to use and enjoy.
Friday afternoons for the school aged or younger child as well as any busy adult can signal the need for an out breath and transition from a week of demanding schedules and activities.  Adults and children can enjoy a low key guided creative time with each other or their peers.
4:00-5:30 -time is flexible to accommodate those who travel a distance. Session lasts an hour and a half.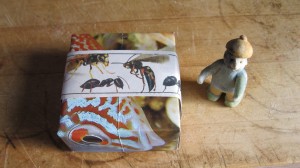 $25 per person per session, materials and firing included.
Work must be finished, glazed and picked up within 6 weeks.
Just call at least the day before to let me know you're coming and see what's on the agenda.
Mondays
NEW!

Watercolor Painting Classes         1-2:30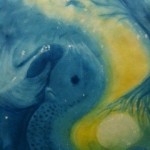 For beginners and experienced painters alike.  These classes focus on form developed out of color.  Designed to free up the imagination and relax the spirit.  Beginning with simple color themes, inspired by nature, you will be able to discover the hidden forms and motifs whispering guidance to your brush.
Materials list for you to bring to first class:
Available at Michaels and A C Moore
Small or large tubes of basic watercolors: Prussian Blue, Ultramarine Blue, Cadmium Red Deep, Cadmium Yellow Pale or Light, Deep Yellow.  Feel free to go wild and include other colors but these basics will give you plenty of  combinations to work with.
Soft bristle, 3/8 or 1″, brush.
Watercolor Paper  -2 sheets to start
4, 1.5 hour classes $100 (prepaid), for 4-6 participants.