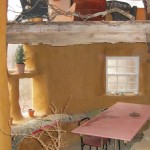 A La Carte
Pick a medium or project, gather your peeps, 4-10.  Let's plan it!
From candle dipping and gnome making to paper folding, painting a poem, Mom's night out, or just plain old fashioned date night at the Cob, making stuff for your life, out of clay.
Got another idea?  Something you have always wanted to learn? I will teach it or find someone who can.  Just say the word or call to confer. 610-469-9509.
$45
BYOB Snacks and beverages.
With organic vegetarian meal $75
Small materials fee may apply for non-clay projects.